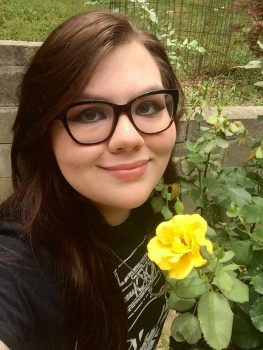 Graduating with High Honors and as Valedictorian of her high school class, Katie (K. M. Brown) wasted no time in getting herself out into the art world and establishing herself as an artist with a passion. Within the year, she was illustrating children's books for local authors and eventually found her way to Oghma Creative Media, where she illustrated her first book for them – Rey and the Magic Amulet - and continues to work hard to make her and the authors' visions a reality.
Often spending her free time writing and reading poetry, Katie's lifelong ambition is to become an established writer herself, standing in as both the author and illustrator of the many stories she has to tell. A child at heart, her interests lie in the magical, fantastical, and oftentimes supernatural - especially when it comes to her storytelling, personal artworks, and downtime hobbies. As of 2022, Katie now manages her own art business - Sunny's Castle - where she advertises current and upcoming projects, sells her works, and accepts commissions from potential clients. There you will find paintings of landscapes made of various traditional mediums like charcoal and watercolor, creative character design that stems from her love of children's entertainment, and digital illustrations that showcase her love for both (not to mention many, many photos of her two cats - Honey and Hilda - who are always there to cheer her creative efforts onwards).
When not busying away at her workbench, she spends her free time practicing archery, working on her swordsmanship, and preparing weekly Dungeons & Dragons campaigns for her friends. No matter the time of day, you can always trust that she is thinking about swords, magic, and the new illustrations that may stem from them.
If you're interested in learning more about Katie or her art, please visit her Instagram, Twitter, or LinkedIn for more information. You can find her at all of these platforms with the handle @sunnyscastle -- or send email to sunnyscastle@gmail.com.